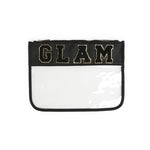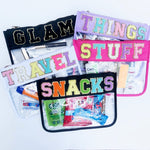 Varsity Letter Clear Zippered Pouch Bag - GLAM
This product is currently out of stock and unavailable.
This clear pouch with colorful top and trim features a gold zipper and chenille varsity letters patches with gold trim. Perfect for whatever makes you feel GLAM. The  patches are SEWN on - not stickers.
Black bag with "GLAM" . Zippered pouch measures approximately 8.5 x 11 inches.