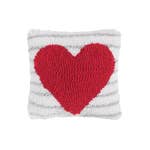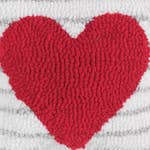 Valentine's Day Heart Stripe Throw Pillow
This product is currently out of stock and unavailable.
It's hard not to love the simple sweet design and hooked texture of our heart stripe pillow. 
This decorative Throw Pillow makes a wonderful gift or decoration for Valentine's Day, an anniversary or any special occasion with your loved one. Product dimensions are 8" x 8". Product is made of Acrylic.