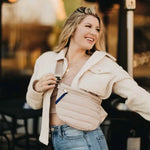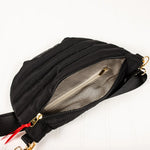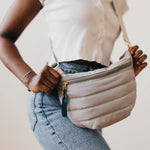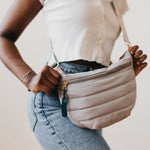 Jolie Puffer Belt Bag / Cross Body - Tan
This product is currently out of stock and unavailable.
This bag is a trendy take on the updated fanny pack that can be worn in multiple ways. Wear it as a belt bag/fanny pack, crossbody, or shoulder bag. Features a fun half moon shape with a coordinating shiny strap, gold hardware and a pop of color with ribbon accent. We are obsessed with this style and the front zipper for easy access. 
Adjustable waist / shoulder strap up to 45 inches. Starts at 27 inches.
Exterior zipper pocket for easy access to your credit cards and ID and phone Black and white striped lining. 
Bag measures 12" x 8" at the longest points. 
Main material: Quilted Puffer Polyester; Other: Sponge and poly/cotton liner